A meteorite fireball was captured by an all-sky monitor set up in Tucson. The six-camera system was developed by Mike Hankey, operations manager for the American Meteor Society.
Stories this video appears in: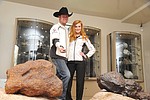 Robert Ward, a meteorite hunter living in Prescott, has added the first finding of Arizona's most recently observed meteorite fall to his extensive collection of space debris.