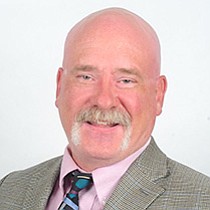 928-445-3333 Extension: 2032

Twitter
Recent Stories

• GENERATIONS — It is amazing what your upbringing or the world you live in can do to you.

With great regret America witnessed another senseless act of killing this past week.

It may not have been "fake news," it certainly was wrong and I laughed out loud anyway.

The story is changing, but the message of danger remains the same.

To paraphrase Forrest Gump: you never know what you're gonna get.

The Friday Catchall: • OPIOID WAR — The Courier has published quite a lot on the opioid crisis in Arizona and locally.
The Prescott Chamber of Commerce Annual Meeting on Thursday offered a glimpse into the future.

The Friday Catchall: • HOW TIMES CHANGE Thursday's workflow seemed fairly regular until the tips and calls started coming in about Sam's Club closing in Prescott Valley.
The case of a 15-year-old girl who reported sexual abuse by an unknown man on Dec. 18 remains open, according to Prescott Valley Police Chief Bryan Jarrell.
Not all schools are created equal, and that is especially true for charter schools.