The radio announcer said, "Wherever you are hanging out today, on Twitter, Facebook, Instagram, Pinterest, etc., we'd love to connect with you." Hiking is not like that. It's a "boots on the ground" shared experience, not a virtual connection.
Do you ponder as you wander? Or, is hiking for you nothing more than pounding ground to get from point A to point B?
My grandnephew asked if he could get a few days of relief from the heat in Phoenix by spending a few days with me, experiencing some wilderness adventure.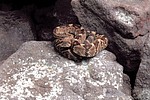 Every year, it's the same. Someone finds themselves in a wilderness survival situation somewhere across the Southwest, especially in Arizona. Now that summer has arrived in all its furry, it's time to take stock of our ability to survive, if lost or injured on our next hike.
I spoke last time to the issue of hiking beyond 50, as in 50 years. Now I want to speak about hiking beyond 50, as in 50 miles.
Two things are certain for Arizona hikers: heat and aridity.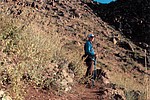 The Granite Mountain Hotshots Memorial Trail is unique in Arizona. It commemorates the nineteen men who fought to save the towns of Peeples Valley and Yarnell from a devastating wildfire at the end of June 2013.
Originally from Bisbee, my first serious hike was Miller Peak in 1968 with my Dad and "little" brother. We failed to reach the summit on our first attempt due to snow but returned that summer to hike through flower-filled meadows.
Prev Next