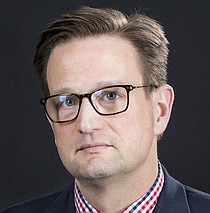 John L. Micek is a syndicated columnist
Recent Stories
It's a Wednesday night in October, three weeks before Election Day, and Mike Kelly is onstage at the Erie Insurance Coliseum, home of the Ontario Hockey League's Erie Otters, where he finds himself playing a familiar role.

ERIE, Pa. — With his second U.S. Supreme Court confirmation in the bag, President Donald Trump took a victory lap around this city by the lake on Wednesday night, skewering "radical" Capitol Hill Democrats and the "dishonest" media, even as he exhorted supporters to vote in next month's midterm election.

Remember that time you got due process in a job interview? Me neither.

Donald Trump Jr. had a pretty simple message for the Republican faithful who filled a hotel ballroom here on the final night of summer 2018.

Congressional Republicans continue to abet and excuse Donald Trump's relentless assaults on democratic norms and the rule of law. But if we were to focus on one particular guy who best embodies that spinelessness, someone who is a veritable metaphor for a party in moral eclipse, I strongly nominate Ben Sasse.
We have been informed, twice last week, that there are alleged "adults" in Donald Trump's White House who are supposedly acting as a hedge against the 45th president's worst impulses.
Politics are on the menu here at The Coffee Tree Roasters. At a patio table early one sunny August morning in this leafy Pittsburgh suburb, a quartet of friends debated President Donald Trump's latest headache — the guilty plea by his longtime lawyer and personal fixer Michael Cohen.

With Labor Day weekend closing in with more speed than I'd like to really acknowledge, I can't turn around these days without someone reminding me of F. Scott Fitzgerald's famous admonishment that "life starts all over again when it gets crisp in the fall."

Years after he was abused by a Catholic priest, Shaun Dougherty uses just one word to describe the state of his faith these days.

The golf clubs in the laundry room at the rear of Dwight Eisenhower's farmhouse here are perched and ready, as if the 34th president of the United States might come and fetch them at any moment.