Sports news from Embry-Riddle Aeronautic University (Arizona) Athletics, the home of the ERAU Eagles.
Recent Stories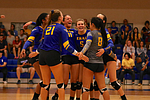 Embry-Riddle Aeronautical University women's volleyball, the defending California Pacific Conference regular season and tournament champion, is not only bringing back a majority of their impact student-athletes, but have also brought in four heavy hitters to increase their tremendous depth.
LANCASTER, Calif. — With just over 2 minutes left in pregame the Embry-Riddle men's basketball team took grasp of the game by tearing down the rim on the west side of the Pioneer Event Center in the California Pacific Conference Tournament semifinals late Monday night.