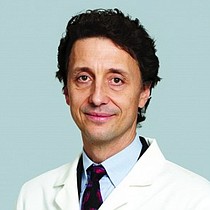 Dr. Roach regrets that he is unable to answer individual letters, but will incorporate them in the column whenever possible. Readers may email questions to ToYourGoodHealth@med.cornell.edu or request an order form of available health newsletters at 628 Virginia Dr., Orlando, FL 32803. Health newsletters may be ordered from www.rbmamall.com.
Recent Stories

DEAR DR. ROACH: Please discuss Brugada syndrome. Three members of my family died from it before we finally got a diagnosis. Where does it come from? — V.K.
I read your recent column about "flesh-eating bacteria." Is it in any way related to Mycobacterium marinum?
DEAR DR. ROACH: My husband had pacemaker surgery in December following a diagnosis of hypertrophic cardiomyopathy. Three weeks later, he developed edema in his lower legs. He was treated by his doctor with a diuretic.
Do Trimix injections work for erectile dysfunction, and are they safe?
Dear Dr. Roach: I am an 82-year-old woman.
I have developed the habit of unconsciously clenching my jaw during the day.
Dear Dr. Roach: My very healthy husband collapsed and died on the way to the hospital.

DEAR DR. ROACH: I am a 42-year-old, completely healthy woman.
DEAR DR. ROACH: I am a snowbird who uses two different cardiologists for my health, and I am devoted to both of them.
What do you know about flesh-eating bacteria?