Chris Howard is a local USPTA Tennis Professional with over 45 years in the racquet and fitness industry. He can be reached at 928-642-6775 or choward4541@gmail.com.
Recent Stories
What will the game of tennis be like in 20 years? I saw this question posed lately and it's interesting how the evolution of a sport that is popular or becomes such unfolds.
Many people remember Arthur Ashe, the first African American to win a Grand Slam tournament; you might remember Jackie Robinson, the first black to play Major League Baseball for the Brooklyn Dodgers in 1947, but how many tennis players even know the name of Althea Gibson, a woman of color who had so many firsts that it's tough to even keep track?
This past weekend, I had a couple relatives of mine and more than a few friends playing in a "Pickleball Tournament" at the Prescott Athletic Club - a well attended event and fundraiser for the Yavapai Humane Society called "Pickle for the Pets Charity."
A couple weeks ago I had a column that went into the aspect of dealing with a health curve-ball of a bad hip situation that had taken me from not only being able to compete, but to not even being able to stand in one place and teach tennis for an hour at a time.
To make a long story short I went to the doctor the other day to see why my right hip has been bothering me so much lately. After a couple months of being two steps short of reaching balls on the court and a toothache pain that hurts more when I'm sitting than standing, it became more than I wanted to endure any longer.
When players drop off the professional WTA tour where once their names were widely known to the point it's unusual to hear anything about them I wonder what the next chapter in life for them was.
Charlie Pasarell said, "The bigger the challenge, the harder I try." "True heroism is remarkably sober, very undramatic. It is not the urge to surpass all others at whatever cost, but the urge to serve others at whatever cost." Arthur Ashe.
Learning sports in general teach each of us a world of life lessons, but the game of tennis even more-so due to the fact there are so many ups and downs during a match, and in a close match it ain't over till the last ball's been hit.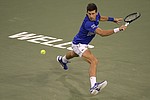 A small ATP charity fundraising event held in Tucson in 1975 moved to the Mission Hills Country Club in the Coachella Valley, California, in 1976 as a regular ATP tour event.
Most of the time in this column I try to be upbeat, informative, knowledgeable, and progressive toward life - especially with the aspect of tennis in mind. That particular game has given me a lot of sanity in its own way as well as a living of sorts. It's been there for me through some rough patches.