Courier Columnist Bob Atherton is a pickleball coach and the Northern Arizona District Ambassador for the United States Pickleball Association. He can be reached at bobca39@gmail.com or 928-499-2498.
Recent Stories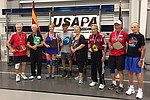 The Silver Fox and Foxie tournament was held at Willow Hills Baptist church in Prescott on Aug. 25 and sponsored by the Willow Hills Pickleball Club, a ministry of the Church. The players were required to be 80-plus years old to play and the motto was, "You gotta be old enough to play to the game."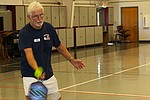 I get a strange not all that familiar look when I refer to pickleball as banger ball sometimes.
Coming to grips of how kids and adults could quickly learn and have fun to play a game together in 1965 was the challenge Joel Pritchard, Bill Bell and his friend Barney McCallum.
Unlike many sports, people come to pickleball with very little sports background; and a lot of background, particularly in tennis.
The first-ever Free Prescott Youth Pickleball clinic and tournament for ages 10-17 will be held Mondays, July 9, 16, 23, and Wednesdays, July 11, 18, and 25 — weather permitting. This will include a free Round Robin Tournament from 8 a.m. to noon Saturday, July 28. 
April is National Pickleball Month. This marks the 53rd year since it was invented in 1965 on Bainbridge Island a short ferry ride from Seattle by Joel Pritchard and his friends, Bill Bell and Barney McCallum, the latter I had the pleasure to meet several years ago.
In doubles pickleball, the server in the game must serve the ball over the net crosscourt to the receiver and not the person's partner or it is a fault by the rules. It looks a lot like tennis.
A pickleball in the air after it is hit is always good until it hits something or somebody. What matters is  how it is stuck and where it goes and what it strikes.
Since many people make a New Year's resolution to lose some kind of weight, or at least begin exercising, pickleball may be a great way to jump start your year.
When I was a kid I had a 1936 Ford with a manual transmission. It had a really low first gear.