Then-Toronto Maple Leafs coach Mike Babcock speaks to reporters, April 25, 2019, in Toronto. Babcock resigned as coach of the Columbus Blue Jackets on Sunday, Sept. 17, 2023, after word emerged earlier this week of him asking players to show him photos on their phones. (Christopher Katsarov/The Canadian Press via AP, File)
Stories this photo appears in: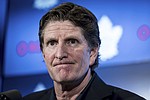 Mike Babcock, the coach with a Stanley Cup championship and two Olympic gold medals on his resume, has lost his last two jobs in the NHL.
By STEPHEN WHYNO Associated Press
September 18, 2023