Nearly 100 people recently attended the Grand Re-Location, BBQ Party and Ribbon Cutting for American Family Insurance, Leah McLemore, at 1578 Highway 89, Chino Valley. Leah is handling the scissors, and to her left is Production Specialist MeLynda Davis. Holding the ribbon ends are members of the Chino Valley Lioness Club. The event, sponsored by ServiceMaster, The Happy Hippie and Fresh Home, was attended by Chino Vallley Mayor Jack Miller, and Town Council members Annia Perkins and Bob Schecherer. For information on Leah's AmFam Insurance agency, call 928-636-8593. (Courtesy)
Stories this photo appears in: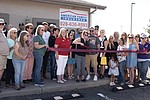 Leah McLemore recently celebrated the relocation of her American Family Insurance Office to 1578 Highway 89 in Chino Valley, with about 100 people attending a ribbon-cutting event.