Arizona guard Shaina Pellington (1) manages to temporarily knock the ball away from Utah guard Isabel Palmer (1) during an NCAA college basketball game Friday, Feb. 17, 2023, in Tucson, Ariz. (Kelly Presnell/Arizona Daily Star via AP)
Stories this photo appears in: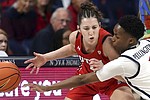 Shaina Pellington made 11 straight shots on her way to scoring a career-high 35 points, leading No. 18 Arizona over No. 4 Utah 82-72 on Friday night.
By JACK MAGRUDER Associated Press
February 17, 2023