Arizona Gov. Doug Ducey speaks at an event touting a new universal school voucher program he signed into law in July and resigned again in a ceremony on Tuesday, Aug. 16, 2022 at Phoenix Christian Preparatory School in Phoenix, Ariz. All Arizona parents now can use state tax money to send their children to private or religious schools or pay homeschooling costs after an effort by public school advocates to block a massive expansion of the state's private school voucher law failed to collect enough signatures to block the law. (Bob Christie, AP File)
Stories this photo appears in: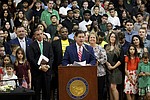 State education officials are giving parents who want to seek immediate voucher payments an extra 15 days to apply.