Rufous hummingbirds pass through the Central Highlands area of Arizona very quickly in the spring as they migrate to their breeding range in North America. (Jay's Bird Barn/Courtesy)
Stories this photo appears in: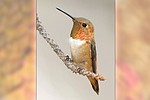 Now that it is "officially" summer, you may wonder if you can expect any changes in terms of the wild bird activity in your yard. If you look at the totality of summer (it extends from June 21 to September 22this year), there will be a tremendous amount of change in bird activity.