This combination of photos shows from left, Republican candidates for Arizona governor Karrin Taylor Robson and Kari Lake prior to an Arizona PBS televised Republican debate June 29, 2022, in Phoenix. (Ross D. Franklin/AP, File)
Stories this photo appears in: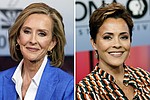 Vote counting continued Wednesday in the close race to determine the Republican nominee for governor in Arizona, with former television news anchor Kari Lake narrowly leading lawyer Karrin Taylor Robson.
By JONATHAN J. COOPER, Associated Press
August 3, 2022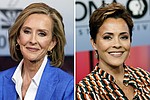 A close race appears to be playing out for the Republican gubernatorial nomination, with Karrin Taylor Robson ahead of Kari Lake in results from Arizonans who voted early by mail.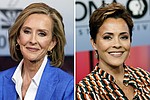 Gov. Doug Ducey has already helped block one of former President Donald Trump's allies from winning the Republican nomination for governor in a crucial battleground state. Now he's hoping for a repeat in his own backyard.
By JONATHAN J. COOPER, Associated Press
July 18, 2022