Basil is one of the plants that benefit from shade in the growing season. (Watters Garden Center/Courtesy photos)
Stories this photo appears in: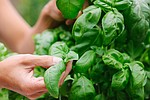 Can I plant herbs in the shade? What herbs require little sunlight? Medicinal herbs that grow in the shade. Low light herbs. What herbs grow in the shade? How much sun do herbs need?
By KEN LAIN, Special to the Courier
April 14, 2022