In this May 6, 2021, file photo, Maricopa County ballots cast in the 2020 general election are examined and recounted by contractors working for Florida-based company, Cyber Ninjas at Veterans Memorial Coliseum in Phoenix. The Arizona Supreme Court upheld an appeals court ruling on Tuesday, ruling that that the records of Cyber Ninjas, as related to the audit, are public.
(Matt York, Pool, AP File)
Stories this photo appears in: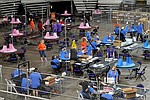 The Arizona Senate has no legal excuse to refuse to publicly produce the records of the firm it hired to audit the 2020 election returns.