Woodhouse's scrub-jays are a common sight in the Prescott area. (Jay's Bird Barn/Courtesy)
Stories this photo appears in: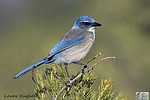 I was recently asked by a customer how likely it would be to see a curve-billed thrasher in Prescott. If I had been asked this question a few years ago, I would have said it was pretty unlikely. However,...