This May 2021 image from an affidavit for a search warrant, provided by the U.S. Department of Justice, shows cocaine that had been transported in hollowed-out pineapples from Costa Rica to Spain. Law enforcement agencies learned about the shipment as part of a global sting operation unveiled Tuesday, June 8, 2021, that intercepted text messages criminals thought were secure. Authorities they said dealt an "unprecedented blow" to organized crime in countries around the world. (Department of Justice via AP)
Stories this photo appears in: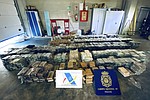 When the FBI dismantled an encrypted messaging service based in Canada in 2018, agents noticed users moving to other networks. Instead of following their tracks to rivals, investigators decided on a new tactic: creating their own service.
By MIKE CORDER, NICK PERRY and ELLIOT SPAGAT AP
June 8, 2021