Arizona is home to several species of sphinx moths. Vegetable gardeners are most aware of the tomato hornworm (Manduca quinquemaculata). The caterpillar feeds on tomato and other solanaceous crops (upper right, Ward Upham, Kansas State University, Bugwood.org). It leaves a trail of frass as it feeds (lower right, Whitney Cranshaw, Colorado State University, Bugwood.org). The pupa is usually found in the soil (lower left, Paul Choate, University of Florida). The adult moth has very intricate markings which allow it to hide from predators (upper left, Wikipedia).
Stories this photo appears in: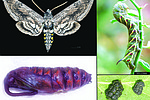 Most gardeners have encountered a sphinx moth at one time or another. The tomato hornworm is a sphinx moth larva, and any vigilant tomato grower has plucked a few of these hungry green caterpillars from their plants.