A hail storm hit the Yavapai Hills area on Sunday, July 11, 2021, about 3:45 p.m. The temperature dropped from 95 degrees to 60 degrees in about 15 minutes. (Ann Friday/Courtesy)
Stories this photo appears in: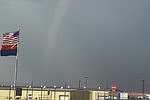 Prescott Regional Airport was shut down Sunday afternoon, July 11, for more than an hour as a result of 80-plus mph winds and an apparent funnel cloud.