Manchester United's Marcus Rashford, top, scores his side's second goal during the English Premier League soccer match between Manchester United and Liverpool at the Old Trafford Stadium in Manchester, England, Thursday, May 13, 2021. New Jersey gambling regulators have fined two sports betting companies for mistakenly allowing 86 gamblers from New Jersey to place bets on whether Rashford would score a goal in the game, after the game had already ended and Rashford had in fact scored. (Michael Regan/Pool Photo via AP, File)
Stories this photo appears in: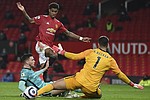 It was every sports bettor's dream: Being able to bet on a game after it had already ended.