A few of the original students who attended the Family Enrichment Center at Yavapai College have now grown up and are ready to graduate from Prescott High School. In this undated file photo, they stand with their families. (YC/Courtesy)
Stories this photo appears in: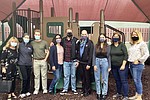 The memories gushed like a waterfall as did a few nostalgic tears when members of a unique and history-making Yavapai College (YC) family gathered earlier this month at the Del E. Webb Family Enrichment Center (FEC), a news release stated.