This undated photo shows seed being saved from a tomato in New Paltz, N.Y. Cutting a tomato in half and squeezing the seeds into a glass or a jar is the first step to having your home-grown seeds for next year's tomatoes. (Lee Reich via AP)
Stories this photo appears in: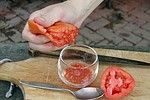 Since the coronavirus pandemic has led to a surge in interest in gardening, especially vegetable gardening, some seed companies are having trouble keeping up with demand. But one thing we gardeners can do is grow and save our own seeds.
By LEE REICH, Associated Press
May 14, 2020