First responders treat Alfredo Saldivar, 28, who was captured by police Wednesday night, May 13, 2020, after he fled from officers at speeds reaching 120 mph and striking cars. (Tim Wiederaenders/Courier)
Stories this photo appears in: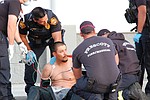 One of my favorite Jim Carrey movies of all time is "Liar Liar."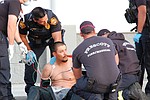 In response to incomplete information that is being put out on social media regarding the arrest of Alfredo Saldivar in May 2020, the Prescott Valley Police Department is providing this accurate depiction of the events as they transpired to provide clarification and transparency.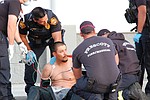 Alfredo Saldivar, 28, faces a variety of felony charges after he was arrested Wednesday night, May 13, for evading police and endangering residents in Prescott Valley and Prescott, according to Prescott Valley Police.