People are seen in a homeless encampment on Thursday, March 19, 2020, in Oakland, Calif. California Gov. Gavin Newsom has authorized $150 million in emergency funding to protect homeless people in California from the spread of COVID-19. $100 million will go to local governments for shelter support and emergency housing, while the remaining $50 million will be for purchasing travel trailers and lease rooms in hotels, motels and other facilities to provide places for the homeless to self-isolate. (AP Photo/Ben Margot)
Stories this photo appears in: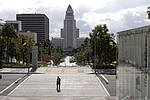 California's 40 million residents should stay home indefinitely and venture outside only for essential jobs, errands and some exercise, Gov. Gavin Newsom said Thursday, warning that the coronavirus threatens to overwhelm the state's medical system.
By KATHLEEN RONAYNE and DON THOMPSON AP
March 20, 2020