This image released by Sony Pictures Classics shows Mick Jagger in a scene from the film, "The Burnt Orange Heresy." Jagger plays a devilish art collector who cunningly convinces an art journalist to use a rare interview with a reclusive artist as an opportunity to steal one of his paintings. It's Jagger's first film since 2001's "The Man From Elysian Fields." (Jose Haro/Sony Pictures Classics via AP)
Stories this photo appears in: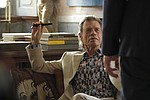 It's been nearly 20 years since Mick Jagger last acted, but as the new film "The Burnt Orange Heresy" shows, his chops have gathered no moss.
By JAKE COYLE AP Film Writer
March 9, 2020