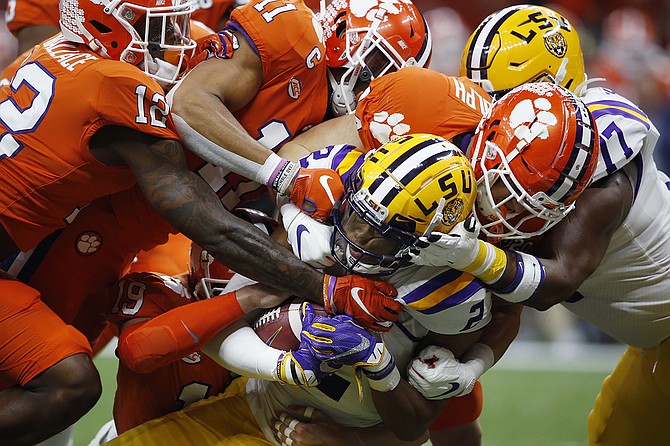 In this Jan. 13, 2020, file photo, LSU wide receiver Justin Jefferson (2) is tackled by Clemson during the first half of an NCAA College Football Playoff national championship game in New Orleans. The NCAA's latest guidance for playing college sports during the COVID-19 pandemic recommends testing players once a week within 72 hours of competition. For typical Saturday football games, that means Wednesday would be the soonest athletes would be tested.Is that enough for a team of about 100 athletes playing a contact sport to get through a season without major disruptions? Especially, considering simply being exposed to someone who tests positive can land an athlete in quarantine for two weeks? (Gerald Herbert, AP file)
Stories this photo appears in: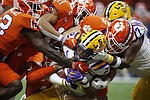 Plans for the college football season — if it is played — should start coming into focus this week. They will trickle down from the top of major college football, with Power Five conferences putting in place revised schedules they hope will make it easier to manage potential disruptions brought on by COVID-19.
By RALPH D. RUSSO Associated Press
July 27, 2020