LEFT: In this June 27, 2018 photo, then-state Rep. David Stringer, R-Prescott, speaks at a community forum in Phoenix. Stringer, who resigned in March 2019 amid an ethics investigation of 1983 child sex charges and his comments on race and immigration, is running for Yavapai County attorney. RIGHT: Stringer has been using photos of President Trump on his campaign materials and videos. The Trump Campaign has sent a Cease and Desist letter to Stringer and his campaign. (AP file, and Courier staff)
Stories this photo appears in: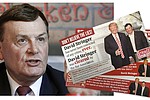 President Donald Trump's campaign doesn't want to have anything to do with disgraced former Arizona Rep. David Stringer.