Pictured are the 2020 Chino Valley Town Council candidates. Top row: mayor candidate Jack Miller; and council candidates Tom Armstrong, Eric Granillo and Billie James. Bottom row: council candidates Regina "Gina" Pecoraro, Annie Perkins and Dianna Voegele. (Courtesy photos)
Stories this photo appears in: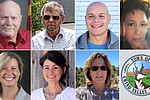 What is your position on growth in Chino Valley? Is it better the town remain a small farming town or will it be better off becoming a business friendly town and growing?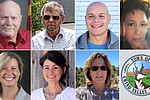 The Chino Valley Review asked candidates questions ahead of the Aug. 4 Primary Election.
By Chino Valley Review
July 7, 2020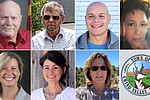 With the elections coming up in August and with three seats open, the six candidates who are in the running for Chino Valley Town Council participated in a virtual forum via Zoom on Monday, June 29, in which they answered questions that were submitted by local residents.