Speaker of the House Nancy Pelosi, D-Calif., arrives at the Capitol in Washington, Friday, Jan. 10, 2020. Pelosi hasn't relayed the articles of impeachment to the Senate for trial three weeks since President Donald Trump was impeached on charges of abuse and obstruction. Last night, she led the Democrat-controlled House in passing a measure limiting Trump's ability to take military action against Iran after he ordered the U.S. killing of a top Iranian general. (AP Photo/J. Scott Applewhite)
Stories this photo appears in: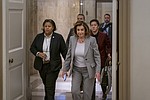 House Speaker Nancy Pelosi said Sunday that senators will "pay a price" if they block new witnesses in Donald Trump's impeachment trial, but the president quickly retorted that she and House Intelligence Chairman Adam Schiff should also testify.
By LISA MASCARO AP Congressional Correspondent
January 12, 2020