Certifying the results of the Electoral College vote – as then-Secretary of State Ken Bennett is doing in this photo from 2012 – is normally an uneventful proceeding. Repeated legal challenges and unsupported claims of election irregularities this fall, however, have put a spotlight on the electors, who are scheduled to meet Monday and cast Arizona's 11 Electoral College votes for President-elect Joe Biden. (Arizona Secretary of State/Courtesy)
Stories this photo appears in: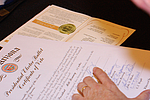 Add one more thing to the list of normal activities that have been upended in 2020 – the job of the state's presidential electors.
By Catherine Fusillo, Cronkite News
December 13, 2020