YCSO Sheriff Scott Mascher said he uses CodeRED about twice a month for incidents involving immediate threats to life and property. One of the largest uses of the system was during the evacuation of 7,000 people threatened by the 2017 Goodwin Fire in Mayer. More than 70,000 people subscribe to CodeRED, which also is used for Silver Alerts and missing children.
Stories this photo appears in: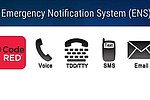 During a discussion on a contract renewal of the CodeRED emergency notification system at the Sept. 4 Yavapai County Board of Supervisors meeting, the question of what constitutes an emergency came up.