Sally Schindel (right) is seen with her son. Andrew Zorn. Schindel blames a marijuana addiction for her son's suicide. (Courtesy photo)
Stories this photo appears in: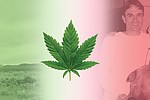 On Halloween, a Peeples Valley pizza parlor will be the festive backdrop for the launch of "Halloweed," a kickoff event aimed at educating rural Arizonans about why they should vote to legalize recreational marijuana.