This Dec. 13, 2018 photo provided by Juliane Pokini shows the first weigh in at Kula Country Farms showing employee Meridyth Sealey, left, with Lo'ihi Pokini and his father Mark Pokini in their kitchen at Kula Country Farms in Kula, Hawaii. The Pokini family from the island of Maui received the Guinness certificate this week for the avocado weighing 5.6 pounds (2.54 kilograms), The Maui News reported Thursday, Oct. 11, 2019. (Juliane Pokini via AP)
Stories this photo appears in: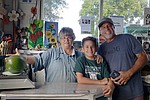 A Hawaii family has won a place with the Guinness World Records for the world's heaviest avocado.