Amelia Walter meets "McGruff the Crime Dog" at the National Night Out event in Chino Valley on Tuesday, Oct. 1, 2019. The town's sixth annual National Night Out was held at Memory Park, designed to heighten crime and drug prevention awareness, generate support for and participation in local anti-crime efforts and to strengthen neighborhood spirit and police community partnerships. For more information, visit the Chino Valley Police Department's Facebook page. (Jason Wheeler/Review)
Stories this photo appears in: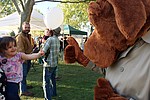 If you enjoy reading spooky, scary and mystery books, visit the Chino Valley Public Library Friends Bookstore for the October book sale.