This photo provided by Rill Architects shows the inside of a garage in Emmitsburg, Md. Detached garages with a second floor, as seen in this project designed by the Bethesda, Md. based firm Rill Architects, can serve as a space to store cars while also pulling double-duty as guest suites, rooms for crafting or even a playroom for children. One section of a large garage can be used to organize planting supplies and adding an outdoor sink and counter area, as seen here, makes the space even more functional. (James Ray Spahn/Rill Architects via AP)
Stories this photo appears in: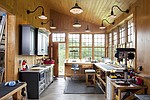 What if your home had a spare room you'd never noticed before? Your garage, even if it has one or more cars in it, can pull double-duty as a gym, a crafting room and even a place to socialize.