This is the inside of a garage in Emmitsburg, Md. Detached garages with a second floor, as seen in this project, can serve as a space to store cars while also pulling double-duty as guest suites, rooms for crafting or even a playroom for children. If a garage is large enough, it can house a full workshop, shown here, or a home gym, something that's become increasingly popular with homeowners. (James Ray Spahn/Rill Architects via AP)
Stories this photo appears in: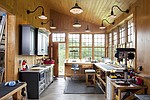 What if your home had a spare room you'd never noticed before? Your garage, even if it has one or more cars in it, can pull double-duty as a gym, a crafting room and even a place to socialize.