New Orleans Saints head coach Sean Payton speaks to the media during the NFC/AFC coaches breakfast during the annual NFL football owners meetings, Tuesday, March 26, 2019, in Phoenix. (Matt York, AP)
Stories this photo appears in: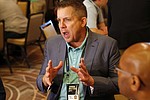 PHOENIX — Roger Goodell got it right. NFL fans rarely feel that way. Right now, they should. Many times, perhaps most of the time, the NFL commissioner is doing the bidding of the owners.
By BARRY WILNER, Associated Press
March 27, 2019