California-grown conventional and organic avocados from Henry Avocado's are affected by the recall. Conventional avocados have a "Bravocado" sticker on them. Henry Avocado's organic products do not carry the "Bravocado" label. Those recalled products are labeled "organic" and include "California" on the sticker. (FDA)
Stories this photo appears in: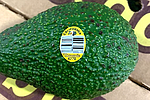 A California avocado company is voluntarily recalling shipments that were sent to six states, including Arizona, after officials said the fruit might be contaminated with a bacterium that can cause health risks, according to a press release from Yavapai County Health Services on Tuesday afternoon.