Prescott's Granite Dells area encompasses a vast patchwork of public and private lands. Over the years, the City of Prescott has bought and preserved the Dells-area Watson and Willow lakes, as well as about 424 acres of Dells open space, including a 160-acre tract of the Storm Ranch, pictured here. (Cindy Barks/Courier)
Stories this photo appears in: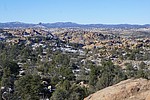 In the big picture of Prescott's Granite Dells, nearly 1,900 acres of prime land has already been preserved at and around Watson and Willow lakes.