James Kraig Kahler listens to the judge while being sentenced in October 2011 in Osage County Court in Lyndon, Kansas. The U.S. Supreme Court has agreed to consider Kahler's death penalty case, which could have implications for mentally ill defendants across the nation. (Anthony S. Bush/The Topeka Capital Journal via AP, Pool, File)
Stories this photo appears in: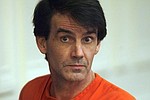 WICHITA, Kan. — The day after Thanksgiving in 2009, James Kahler went to the home of his estranged wife's grandmother, where he shot the two women, along with his two teenage daughters.
By ROXANA HEGEMAN, Associated Press
March 23, 2019