Rusty Sowell, pastor at Providence Baptist Church, speaks to volunteers organizing donations Wednesday, March 6, at the church in Beauregard, Ala. Dealing with the dead became a huge task in a rural Alabama community where nearly two dozen people died in a tornado outbreak. (David Goldman/AP)
Stories this photo appears in: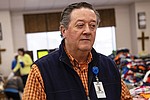 With nearly two dozen people killed in a tornado outbreak that shattered a rural community in east Alabama, notifying the families of the dead was a huge, gut-wrenching task, done in the privacy of a country church.