In a September 2016 photo, Yale's women's Head Soccer Coach Rudy Meredith gives a high five to a player after making a great play in a scrimmage, in Frankfort, Ky. According to the federal indictments unsealed Tuesday, March 12, 2019, Meredith put a prospective student who didn't play soccer on a school list of recruits, doctored her supporting portfolio to indicate she was a player, and later accepted $400,000 from the head of a college placement company. (Doug Engle/Star-Banner via AP)
Stories this photo appears in: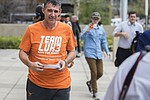 AUSTIN, Texas — Coach Gordie Ernst's Georgetown University tennis teams didn't win any Big East championships. At Wake Forest, Bill Ferguson's volleyball teams struggled near the bottom of their conference.
By JIM VERTUNO, AP Sports Writers
March 14, 2019