Construction crews replace a section of the primary wall separating San Diego, above right, and Tijuana, Mexico, below left, Monday, March 11, 2019, seen from Tijuana, Mexico. President Donald Trump is reviving his border wall fight, preparing a new budget that will seek $8.6 billion for the U.S-Mexico barrier while imposing steep spending cuts to other domestic programs and setting the stage for another fiscal battle. (AP Photo/Gregory Bull)
Stories this photo appears in: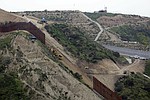 WASHINGTON (AP) — In a stunning rebuke, a dozen defecting Republicans joined Senate Democrats Thursday to block the national emergency that President Donald Trump declared so he could build his border wall with Mexico.
By LISA MASCARO, ALAN FRAM and CATHERINE LUCEY Associated Press
March 14, 2019