This photo shows a child's nursery designed by Betsy Burnham in Los Angeles, Calif. In nurseries and bedrooms for younger kids, storage space is always needed. A fabric skirt attached beneath a crib, as shown in this nursery by interior designer Burnham, creates a storage space that's close at hand but hidden from view. (Betsy Burnham via AP)
Stories this photo appears in: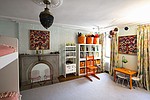 Spring cleaning season is here, and some of us got a head start by taking Marie Kondo's message to heart: You'll be happier if you eliminate clutter.