This July 7, 2016, file photo, shows boxes containing more than 270,000 signatures gathered by the Arizona Healthy Working Families Initiative group sit on display prior to a news conference at the Arizona Capitol in Phoenix. Some entities in the state – the Goldwater Institute, Arizona Chamber of Commerce, the Arizona Free Enterprise Club, and some state lawmakers – have put up House Bill 2523 this month, which would allow businesses to pay $7.25 per hour to full-time students younger than 22 who work no more than 20 hours a week.(Ross D. Franklin/AP, file)
Stories this photo appears in: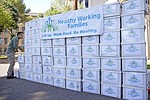 In 2016, voters approved increases to the minimum wage in Arizona. As a result, it has been steadily increasing.