This photo of Variegated Liriope shows how green gardens don't have to be exclusively green although the foliage dominates. Variegated Liriope produces thin-bladed tufts of yellow-striped foliage with lilac flowers growing on stems taller than the leaves. Use them as a framework for softening trees, shrubs and rocks in a natural landscape. (Dean Fosdick via AP)
Stories this photo appears in: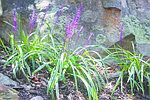 All-green gardens are becoming popular again as the centerpieces of monochromatic landscaping.