Students from Del Rio Elementary sit around a table at a recent ice cream party. Del Rio, in partnership with the Rotary Club of Chino Valley, challenges students at Del Rio to read, read, read! To build inertia and keep students reading each quarter, the classes at each grade level with the greatest gain in words read are treated to an ice cream party with Rotarians. (CVUSD/Courtesy)
Stories this photo appears in: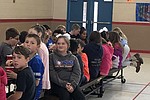 Who can read a million or more words in a school year? Apparently, 31 third through fifth graders at Del Rio Elementary in Chino Valley can! "Del Rio School encourages readers", says Principal Reeder.