Stacy Marcus, administrative secretary of Federal Programs and School Innovation, center, is flanked by Superintendent Dan Streeter, left, and Dr. Rob Bueche, executive director of Federal Programs/Education Services, at the July 9 Humboldt Unified School District Governing Board meeting. Marcus earned the VIP of the Month award. (Sue Tone/Tribune)
Stories this photo appears in: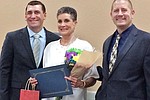 Two Humboldt Unified School District classified employees received accolades and the VIP of the Month award at the HUSD Governing Board meeting July 9.