The OK Grocery Store. Inside, the Dougherty brothers argued over whether grading Prescott's rutted streets should take precedence over improving the town's water supply. Call # 1400.8058.0002.
Stories this photo appears in: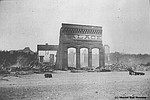 Anyone who has lived in Arizona knows that eventually two topics are bound to come up: the heat and drought.